All nine people who were thrown into Tampa Bay after their boat hit a wave this weekend were rescued. The group included an infant and a child.
The
article on MyFox Tampa Bay
states, "No one was wearing life jackets..."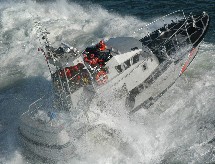 This last statement is disturbing since the boaters had an infant and a child on board. I don't mean to get preachy here, but it is INSANE to think that these folks were bopping around on Mother's Day without life jackets on their kids!
In
other rescue news
from the weekend, three men - age 21 to 22 - were rescued after their 22 foot fishing boat capsized off of St. Augustine, Florida. The Coast Guard's swift action led to a rescue within 60 minutes of the time the distress call was made. Not sure if these three guys were wearing life jackets, but they were smart enough to stay with their overturned boat. But they were not smart enough to stay home in the first place... The Coast Guard had a vessel that was already powered up "as a precaution because of heavy seas and winds as high as 28 mph."
Listen everybody, if you're going to go fishing, check the marine weather forecast first. And if you're going out in a "small craft" it's a good idea to listen for something called "small craft advisories". There's a pretty good chance one was issued if there were heavy seas and winds near 30 mph!
So, let's re-cap what we learned today:
1. Wear life jackets
2. If you've got kids on board, make them wear life jackets
3. Check the weather